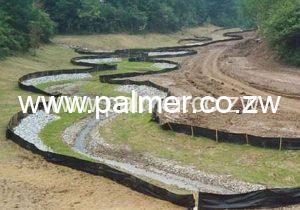 Property owners, contractors, developers, and engineers regularly face erosion and sediment control challenges—whether to address existing erosion issues, improve groundwater flow to increase property values, or implement erosion and sediment control measures for new developments that stand the test of time. With years of erosion and sediment control experience throughout the Zimbabwe., Palmer designs and builds durable solutions for our clients that are low cost, high efficiency, and low maintenance.
Palmer can furnish and install all of your erosion and sedimentation controls ranging from rip rap, silt sock, seeding and hydro-seeding, erosion control blanket, silt fence, super silt fence, etc.Using Best Management Practices, Palmer provides design specifications and installation of erosion control structures for stabilizing coastlines, stormwater management facilities, ponds and lakes, roadways, streams and rivers, and disturbed soils.
Palmer Sediment Control is a three-dimensional tubular sediment control and stormwater filtration device typically used as a silt fence replacement (perimeter control device) for sediment and soluble pollutants (such as phosphorus and petroleum hydrocarbons), on and around construction activities. Palmer Sediment Control traps sediment and soluble pollutants by filtering runoff water as it passes through the organic structure, and by allowing water to temporarily pond behind the device, allowing deposition of suspended solids. Sediment control is also used to reduce runoff flow velocities on sloped surfaces.