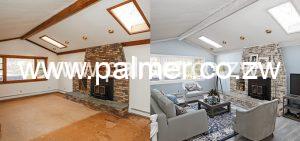 The rewards of a successful renovation or extension project speak for themselves – a beautiful new home, more space for a growing family, or a fully functional office. But there are many potential pitfalls, delays, unforeseen costs and expensive mistakes – which can be avoided.
At Palmer our dedicated project management team are focused on delivering your project on time, within your budget and exactly how you imagined it. We take care of the entire process from start to finish and all you have to do is enjoy the end result.
We offer a comprehensive range of services including, but not limited to all building including plumbing, electrical, tiling, roofing, guttering, walling, paving, painting, carpentry etc.Liaising with external parties and governing bodies, obtaining approvals, drafting plans, rendering 3-D computer generated models, site supervisory management, quality checking and contract administration.Office, kitchen and bathroom fittings.landscaping, boreholes, pressure tanks, generator installation.Office and home security system installation and internet installation.Our aim is to provide peace of mind through excellent service.