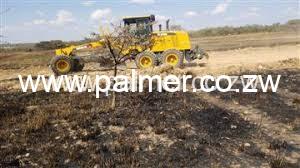 Our land development services range from preparing any ground for any type of construction projects to servicing of residential or industrial stands.In developing land, we execute projects such as  water reticulations,sewer reticulations,road construction,  road surfacing, drainage, driveway pavement, storm water drainage pegging of stands.Now raw land development is the process of purchasing a parcel of land with the intent of either developing and building on it, or holding onto it for long-term appreciation
Palmer Construction understands that in land development there is no one size fits all.The needs of a rural district council or an individual with land are different thus we invest a significant amount of our time understanding the needs of the clients.Conversion of raw land into construction ready housing, commercial, or industrial building sites. Land development process involves improvements that have indefinite life, such as draining, dredging, excavating, filling, grading, paving, etc. See also land improvement.
At Palmer we are adamant about providing the highest level of service to ensure each customer's comfort  through out all phases of land development.For more information call,whatsapp or email us.Consultation is openly free for everyone.