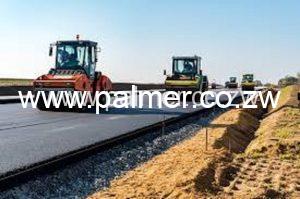 Palmer provides our clients with  products, hot asphalt mix and road rehabilitation. We are in the business of infrastructure development, road safety, creating a convenient commute and ensuring an enjoyable journey for all road users.
We have the skill and equipment to carry out slurry seal patching and surfacing. Slurry sealing provides a cost effective alternative in many cases to the often more expensive surface dressing and asphalt paving.
We carry out all types of patching including pothole patching, slack repairs, crack sealing, edge patching and crocodile crack sealing. We are able to execute any asphalt concrete works whether the project is only a few tonnes or several thousands of tonnes.We have the capacity to undertake all manner of roadworks and infrastructural development including storm water drainage, water and sewer reticulation.We are able to quickly rehabilitate existing roads in need to reconstruction.
We can mix and supply any quantity of asphalt (premix) required.  We have the capacity to provide both hot and cold mixes.We carry out all aspects of  surface dressing whether it be for new works, from priming of completed base to the construction of tack and seal coats, or patching and resealing of an existing surface.We can provide all-inclusive rates for the construction or the surfacing required.  Or, alternatively, we can provide plant and labour rates only where the Client supplies the materials.
At Palmer Construction, we are here to work for you. With each task, we apply the high standard of professional skill and service to ensure a quality road. From day one, we provide honesty, integrity and quality in all aspects of the job. We work with your insurance companies for a rate that has your best interests in mind. We do not charge hidden fees or change the rates without notifying you. We apply quality in the materials and tools we use, to ensure that the road we construct will survive the years ahead.